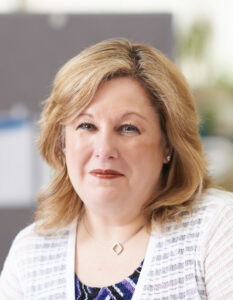 Terri Elkowitz is a Senior Vice President and Northeast Regional Manager of VHB.  In this role, she manages the operations of VHB's offices in New York and New Jersey.  She joined the firm in January 2009, as a result of the merger of VHB with Freudenthal & Elkowitz Consulting Group, Inc., where Ms. Elkowitz served as President since its founding in 1988.  She was appointed as a member of VHB's Executive Committee in 2015, and previously served as a member of the Board of Directors.
Ms. Elkowitz has been a practicing environmental and planning consultant for over 30 years.  She has managed the environmental planning and permitting processes for many major development projects on Long Island. She is well-versed in the State Environmental Quality Review Act (SEQRA) process and has prepared numerous environmental assessment forms, draft and final environmental impact statements, planning and zoning studies, visual assessments, and associated evaluations, and has given many lectures regarding SEQRA throughout New York.  Not only has she worked with public and private clients on the administration of the SEQRA, but she also provides environmental and planning consulting services to municipalities, school districts and other special districts.  Ms. Elkowitz provides expert testimony to various Town and Village Boards, Planning Boards and Zoning Boards of Appeals on planning, zoning and environmental matters and provides expert testimony, affidavits and other litigation support in court cases.
Ms. Elkowitz is a Trustee of the Foundation of the State University of New York at Old Westbury and serves on the Board of the YMCA of Long Island. She is a member of the Board of Advisors of the Energeia Partnership, a Regional Leadership Development Program at Molloy College.  In addition, she serves as the Vice Chair of the Planning Board of the Incorporated Village of Belle Terre.  Ms. Elkowitz is a Life Director of the Long Island Builders Institute, and a member of the Associate Board of the Association for a Better Long Island.  She served as Chairperson of the Suffolk County Council on Environmental Quality (CEQ) for approximately fifteen years.  She formerly served on the Advisory Board of the College of Business, State University of New York at Stony Brook and on the Board of Directors of various charitable and professional organizations.
Ms. Elkowitz holds a Master of Science degree from the W. Averell Harriman College of Policy Analysis and Public Management at the State University of New York at Stony Brook.