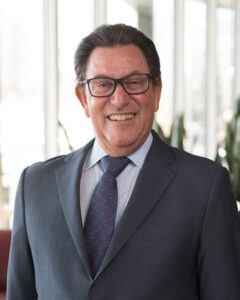 Richard Herzbach, Partner-in-Charge of our Condominium and Cooperative Law Practice Group, represents numerous developers in every aspect of Condominium, Cooperative and Homeowner Association Law. He prepared the first condominium offering plan in the State of New York to be accepted by the Attorney General under that office's certification procedures. He continues to represent his clients with the procedural work required in obtaining the approvals necessary from the New York State Attorney General's Office including offer plans, CPS-7 applications and No-Action applications for condominiums, homeowner associations and cooperatives.
He works as a counselor and an advisor to builders in developing the concept and structure of the overall development.  The developments include Planned Unit Developments, multi-family townhouse communities, high and mid-rise buildings, mixed-use properties and IDA generated properties.
Prior to joining Certilman Balin, Mr. Herzbach was an Assistant Attorney General of the State of New York in the Real Estate Finance Bureau, the office responsible for the regulation of condominiums and cooperatives in the State of New York.
He serves as Legal Counsel to Long Island Home Builders Care (LIHBC), the charitable arm of the Long Island Builders Institute (LIBI). Recently, he completed his term as Co-President of the Long Island Real Estate Group (LIREG), for which he serves on the Executive Board and the Board of Directors. He is also a Past President of the Board of Directors of the Long Island Chapter of the Corporate Real Estate Network (CORENET).
Mr. Herzbach also served as Chairman of the Homeowners Association Subcommittee of the New York State Bar Association's Real Property Law Section Committee on Condominiums and Cooperatives and on the Bar Association's Liaison Committee with the Attorney General of the State of New York.
For over ten years, he was an Adjunct Professor at Hofstra University School of Law. He taught a course in Condominium and Cooperative Law. Mr. Herzbach participates as a moderator and a panelist at Continuing Legal Education classes on all aspects of Community Association Law. Through a special program in affiliation with Hofstra Law School, called the LIREG Real Estate Development Seminar Mr. Herzbach teaches the condominium and cooperative section of the course.
Active in charitable endeavors he chaired the LIREG charitable committee and volunteers at the Suffolk Y and the Family Service League. The American Cancer Society once honored him as "Man of the Year."
Mr. Herzbach graduated from Hofstra University School of Law and earned a Bachelor of Arts in Political Science from the University of Cincinnati. He is admitted to practice in the State of New York and the U.S. District Court, Eastern District of New York, and achieved the highest rating by Martindale Hubbell.