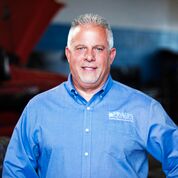 Dave Bloom is the owner of Pine Aire Truck Service, a full-service commercial truck maintenance and repair facility. Under Dave's leadership the business has grown from a small repair shop located off a dirt road into a modern state-of-the-art facility that is nationally recognized as a leader in the industry. In 2021 Pine Aire Truck Service will celebrate its 35th year in business!
Dedicated to building a community where he and other shop owners like him can learn from and provide support to each other, Dave has developed powerful relationships with colleagues across the country and the globe. Most recently, Dave traveled to the Middle East at the invitation of a fellow shop owner who took him on an amazing tour of Oman and Dubai.
Dave is passionate about helping other businesses succeed, especially in the truck and automotive industries. He recently became a co-owner in Dream Car Restorations, a collectible car restoration shop which enables him to combine his passion for building businesses and classic cars.
Dave is a frequent guest on industry podcasts, been a public speaker at business conferences across the country, and regularly interviews successful business owners on his own podcast, "Success Stories" and offers personal motivational insights on his "Got a Minute Monday" video segments.
In addition to helping other small businesses, Dave is involved in numerous charitable events and fundraisers. He and his team at Pine Aire Truck Service have raised funds as well as collected donated items for an array of causes including Christmas Magic, Hope House Ministries, Pet Peeves, Operation Santa Claus and countless others in need of help. Dave is a guy who finds it hard to say no to any worthwhile cause, and he can often be found lending a hand, sometimes literally building dog houses, playhouses and other projects to provide creature comforts for people and pets.
A lifelong Long Islander, Dave is an avid boater and beachgoer. He and his wife Cindy spend their free time with their family enjoying the waves at Ocean Beach on Fire Island.
Dave is very proud to have recently joined the Board of Directors of Long Island Home Builders Care.
To learn more about Dave and Pine Aire Truck Service, visit: www.pineairetruck.com.